WAN Services
You'll want your Wide Area Network (WAN) to be able to keep up with your business and beyond – and that's exactly what we offer through our innovative range of WAN technologies.  Plus, once your WAN has been set up or is being set up, there are a whole host of other services than can complement the network and help you make the most out of your leading WAN technology.
Learn More
WAN Bandwidth
Wide Area Network Bandwidth, whether to other offices, a disaster recovery site or your own clients is one of the most costly parts of any network. By optimising your WAN bandwidth you can control costs, realise costs savings and increase network and application performance.
Learn More
Licensed Microwave Provision
Most people are familiar with using wireless networking around the home or office, connecting to the internet using a laptop at home for example.
This type of wireless is license free and is fine for non-critical applications.
Licensed Microwave is commonly used for point to point connections where fibre is unavailable or too expensive.
Speeds of 1Gbps are common and the presentation is Ethernet, but they can be treated in the same way as a Point to Point Link (above) as far as your network is concerned.
Learn More
Dark Fibre
Dark Fibre is the supply of unrestricted fibre between two locations.  The speed (bandwidth) between the sites is then dependant on the equipment plugged in at each end – rather than paying a higher rental for more bandwidth from a carrier.
LinchPin specialise in building dark fibre networks between locations – we arrange all physical aspects including licenses, civils works and fibre supply.
Learn More
Internet Provision
This is the supply of an Internet feed in much the same way as a domestic user, except all our Internet is supplied with an SLA (Service Level Agreement) which ensures a quick response in the event of a problem in the supply.
Internet can be provided as a standalone service or as part of a larger solution (see MPLS above).
The term Business Broadband is often used in this context as well.
Learn More
Below is a brief explanation of the other terms used when describing the WAN technologies we employ:
Point to Point circuit (Leased Line)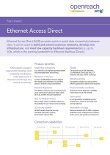 A point to point circuit is a simple connection between two locations, in the past there were uses of copper and fibre with various physical presentations at each end – these have almost entirely been superceded by fibre cabling and Ethernet presentations.
These type of circuits can be treated as simply extensions of a LAN, in the same way you might have links between floors in the same building.
MPLS Networking
MPLS (Multiprotocol Label Switching) is a more sophisticated way of creating a WAN (Wide Area Network) connecting multiple locations together.
In general terms MPLS is well suited to configuring the flow of traffic around a network, allowing each site to communicate with another directly.  It also allows good use of central resources that can then be employed across the entire estate but only have to be bought once – Internet Breakout and Firewall Provision being good examples.
SIP & VoIP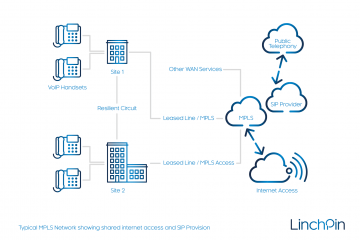 SIP (Session Internet Protocol).  VoIP (Voice over IP).
Both these terms are used in connection with offering a voice service between locations using your existing WAN, normally used for data only.
The VoIP part of this is the method used by telephone equipment to use an IP packet (data) to transport a telephone conversation.
In the context of the services we offer the SIP part of this is used to transport multi-media traffic.
So, for example, a VoIP network could be used to transport voice traffic between your own sites (free of charge on an existing data network).  SIP would then be used to transport the same traffic to a 3rd party to connect the calls to the outside world – or to pick up incoming calls and deliver them to your telephone system.