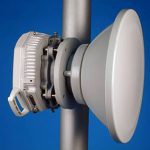 Licensed Microwave is a quick and effective means of introducing resilience and additional bandwidth between two locations.
Bandwidths can be up to 1GBps.
All links are licensed with Ofcom and assigned a specific frequency. It's very important to distinguish these products from license free products which are prone to interference from other systems. Licensed Microwave links are regulated and cannot be interfered with.
LinchPin carries out all desktop surveys, physical surveys, license applications, installation and maintenance.
For more information on the products please read our White Papers.